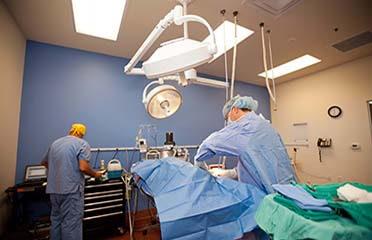 Ingleside Animal Hospital offers safe and comfortable pet surgery. Exceptional skill, dedication, and solid pre- and post-operative protocols ensure a positive outcome for our patients.
Our High Standards Minimize Risk
It's natural to worry when our pets undergo surgery. Our high standards of care should ease your mind:
Mandatory blood work—We thoroughly examine surgical patients and perform a comprehensive pre-anesthetic blood work panel in order to verify that your pet is healthy enough for surgery.
Mandatory IV catheter and fluid therapy for anesthetic procedures—Use of fluids help keep blood pressure steady throughout an anesthetic procedure. An IV catheter also allows for rapid administration of medications if the need arises.
Safe anesthetics and sedatives—Careful monitoring and quickly reversible sedatives are utilized.
Anesthetic monitoring—We monitor heart rate, respiratory rate, blood pressure, EKG, oxygen, and carbon dioxide concentration during anesthetic procedures.
Pain management—We provide pain relief before, during, and after surgery. We offer epidurals and many other innovative options to relieve pain.
Therapeutic cold laser—Post procedure, we use laser therapy to treat incisions and surgery sites to reduce inflammation, assist healing, and relieve pain.
Post-operative care—Immediately following surgery, our veterinarians will contact you to go over the outcome. Veterinary staff will continue to monitor vitals, may administer fluids, and check sutures. For those patients in need of overnight care post procedure, we will recommend referral to a 24-hour facility to continue supportive care (as we are not a 24-hour facility).
Surgeries We Routinely Perform Include
Spay and neuter
Declawing
Abdominal exploratories
Biopsies and endoscopies
Eye surgery
Wound and laceration care
Foreign body removal (often using endoscopes)
Amputations
Bladder and spleen surgeries
Emergency (during office hours)
Cruciate ligament (knee) repair surgeries
Surgeries are scheduled and performed Monday through Friday. Drop-off time is between 7 and 8 a.m. in the morning. If your pet is showing clear signs of illness (runny nose, fever, etc.) or if pre-anesthetic blood work reveals a problem, we will reschedule or re-evaluate your pet's surgery.