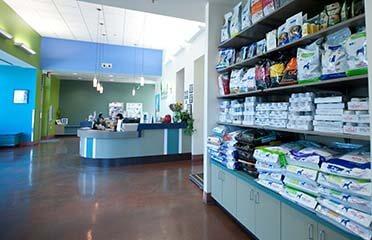 Proper nutrition is an important aspect of keeping your pet happy and healthy. Ingleside Animal Hospital is able to provide nutrition counseling, both to ensure continued good health or when more specialized care is needed.
We provide nutrition guidelines for all the pets we serve: dogs, cats, rats, mice, hamsters, gerbils, rabbits, ferrets, turtles, reptiles, and birds.
Our nutritional services include:
Everyday health and wellness diet counseling
Nutritional advice for pets with allergies
Pet weight loss
Recommendations for veterinary pet food formulas for patients living with chronic illness and conditions
Prescription Diets & Veterinary Formulas
Pet food companies have developed a number of prescription diets that address health conditions that affect many cats, dogs, and other companion animals. Sometimes it can be a challenge to find a formula that helps the patient's particular ailment and is one the pet will readily eat. For that reason, our hospital carries four food lines: Purina, Science Diet, Royal Canin, and IAMS.
Health Conditions That Benefit From Prescription Foods
Food allergies
Diabetes
Intestinal tract disease
Cancer
Thyroid disorders
Joint pain (arthritis)
Obesity
Kidney disease
Liver disease
Lower urinary tract disease
Pet Obesity
It is never too soon to feed your pets properly. Just like with humans, it is easier to prevent obesity than cure it. We'll work with you to keep your young pet slim. At the same time, we know it is sometimes not easy to keep our pets trim, especially as they age. It is estimated that up to 53% of dogs and 55% of cats are overweight in America today. If you are like many American households with a chubby pet, we'll work with you to slim him or her down.
We'll help by providing guidelines on quantities, food types, and schedules to prevent pet obesity. Purina has developed a fantastic online program called Project Pet Slim Down, designed to get pets down to a healthy weight. In cases of severe canine obesity, we may prescribe Pfizer's drug, Slentrol, designed to curb appetite.
Call our animal hospital, located in Phoenix, Arizona, to schedule a nutritional assessment for your pet.