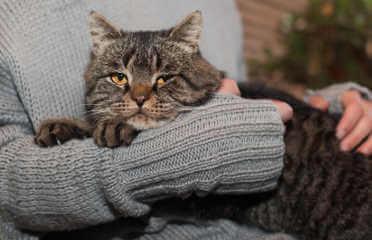 Old friends have a special place in our hearts—and the same is true for our senior animal companions. They have earned the right to a comfortable old age and the best care possible care. As pets approach 7–10 years of age, they often require a bit more TLC, since they are more vulnerable to disease, injury, and painful conditions.
Health issues that may affect older dogs and cats include:
Dental disease
Diabetes
Cancer
Diseases of the kidney, liver, and heart
Arthritis and degenerative joint disease
To optimize your senior pet's wellbeing, we recommend a number of preventive steps to ensure early detection and treatment of emerging diseases. Many medical conditions and diseases can be treated or managed, enhancing longevity and quality of life. Preventive steps include:
Schedule bi-annual veterinary wellness exams for pets 7–10 years of age.
Our recommendations will vary, but more medical tests may be run to check for organ function and other diseases.
Assess your pet's nutrition; if he or she is overweight or has chronic conditions, a special diet may be in order.
For pets with joint problem or arthritis, we will work with you to develop a pain management program, which may include acupuncture or therapeutic laser therapy.
When to Be Concerned
Many changes that occur to our aging pets are natural. Older pets may slow down, grey, and have less pep. If you see marked changes in behavior and activity level, please schedule an appointment for an evaluation. Red flags for a more serious problem include:
Sudden weight loss or gain
Vomiting, diarrhea, or difficulty passing urine
Breathing heavily at rest
Hair loss
Decreased appetite
Increased water consumption and urination
Deteriorating vision, hearing, or sense of smell
Increased size of the abdomen
The Grey Muzzle, a non-profit organization devoted to senior dogs, is a great resource that focuses on caring for senior dogs.
If we have not seen your senior pet in the last six months, we urge you to call today to schedule a senior pet wellness exam.