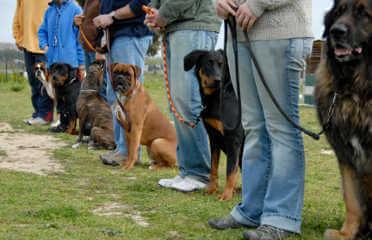 Are you struggling with a dog or puppy that has bad habits? Bad behavior runs the gamut from being annoying to downright dangerous. Does any of this sound familiar?
Won't come when called
Doesn't listen
Jumps on people
Play bites
Aggressive
Barks too much
Destructive in the home
Bothers you when you eat
Pulls on leash
Not house trained
Ingleside Animal Hospital knows a well-behaved dog makes for a better member of the family. For that reason, we partnered with a certified dog trainer who provides both classes at the hospital and in-home training.
Types of Training Available
Private in-home trainings—Focuses on specific behaviors in the home.
Puppyhood 101—Starting as soon as seven weeks, learn the best way to house and leash train and more.
About Our Certified Dog Trainer
Sharon Witherspoon was one of the first trainers to be as a CPDT-KA (Certification for Pet Dog Trainers—Knowledge Assessed) through the Certification Council for Professional Dog Trainers, the only national certification for dog trainers. Sharon is also one of the first trainers to become affiliated with Victoria Stilwell of "It's Me or the Dog" on Animal Planet. Sharon is an advocate of positive training that emphasizes positive dog training methods over dominance or punishment-based approaches.
Learn more about dog trainer Sharon Witherspoon. Call us to sign your dog up for group classes. You'll be glad did!
Owner's only for the first class