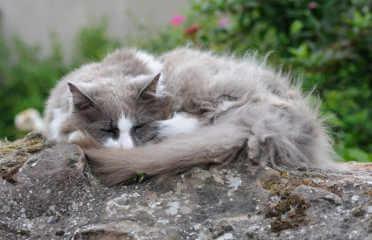 For many of us, caring for our pets is a natural impulse that springs from love. How many of us have nursed our pets through bouts of diarrhea, uncomfortable ear infections, sprains, kitty colds, and even tooth extractions? Others have seen their pets through chronic or serious health problems.
Sadly, the day may come when our pets become too ill or too old for recovery. The decision to put your beloved pet "to sleep" can be the most merciful course. If that time arises, we will counsel you on options and what to expect. We pledge to provide the most compassionate euthanasia experience we can.
Before euthanasia, our staff will discuss the procedure with you and will talk about after-care choices, such as retention of ashes after cremation and if you would like a clay paw imprint of your beloved pet. If necessary, we can medicate your pet with pain medications and sedatives so he or she is relaxed and comfortable. We will allow you all the time and space you need, and we invite any and all family members to be present if they wish to say goodbye.
ACPCA offers a great deal of information on how to deal with pet loss, including a pet loss hotline.
At Ingleside Animal Hospital we understand what you are going through, we care and we are here for you and your family.