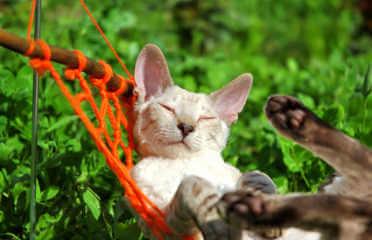 Boarding and Grooming for Cats & Dogs It is never easy to leave our pets behind, but having a safe and reliable kenneling option for those times when it is needed makes sense. Ingleside Animal Hospital provides boarding for cats and dogs, clients and non-client alike. For pets with medical conditions or on daily medications, boarding in a veterinary hospital can offer pet owners additional peace of mind.
**Prior to dropping off your pet, please fill out our boarding agreement form online.
Comfortable Accommodations
Ingleside Animal Hospital boards cats and dogs of all sizes. Our kennel facility is temperature controlled. We have air-conditioned and heated runs for the large dogs and air-conditioned and heated rooms for the smaller dogs and cats. Pets enjoy piped in music and natural lighting via ample windows and solar tubes. Dogs are walked two to three times daily.
Diet & Medications
We feed prescription-level dog and cat foods or your pet's own diet. Administration of medications for any health condition, including diabetes, is provided. Pets not patients of Ingleside Animal Hospital, that are currently under treatment by another veterinarian, are required to be examined by one of our veterinarians to assess the pet's medical condition. This is for the safety and security of your pet.
Boarding Requirements
For the safety of all our boarders, cats and dogs need to be free of fleas and up to date on vaccinations. For dogs, that includes bordetella, DA2PP, and rabies. Rabies vaccination is required, as well as FVRCP, for cats. We require documentation of current vaccinations.
Also dogs and cats must be on a flea and tick preventive that is administered by our staff. The fee for flea and tick preventative is $25.00.
Ingleside Animal Hospital also requires that all boarding cats, dogs, or other pets, that are not patients of our hospital and being treated for any medical condition, be examined by one of our doctors upon presenting to our hospital for boarding. This policy was developed to allow our staff to learn about the health of all patients being cared for in our facility. We also will require a copy of the current medical records from your veterinarian.
Boarding Agreement
Prior to dropping off your pet, please fill out our boarding agreement form online.
Grooming
Ingleside Animal Hospital offers basic grooming services. Technicians can offer basic baths and shaves. We also offer sedated grooming procedures. Pets can stay at the hospital until you are done with work or your daily errands until we close at 7 p.m. during the weekdays and 3 p.m. on weekends.
As an added convenience, we can address routine matters during bathing appointments. If you wish to vaccinate your pet during a bathing appointment, check out that lump or bump, or discuss any other health concerns, please schedule this with our hospital when you book your grooming appointment.
Contact us to book any boarding and grooming services.